Recipe
Cardoon risotto with Beaufort
A wintry pairing for Bollinger Special Cuvée
In the heights of Megève, at the heart of the Alps, we find three-Michelin-starred top chef Emmanuel Renault. He welcomes us into his restaurant, Le Flocon de Sel, and tells us about his history with Bollinger
Discover the chef's food and wine pairing with a delightful recipe for cardoon risotto with Beaufort cheese, to marry with a glass of Special Cuvée.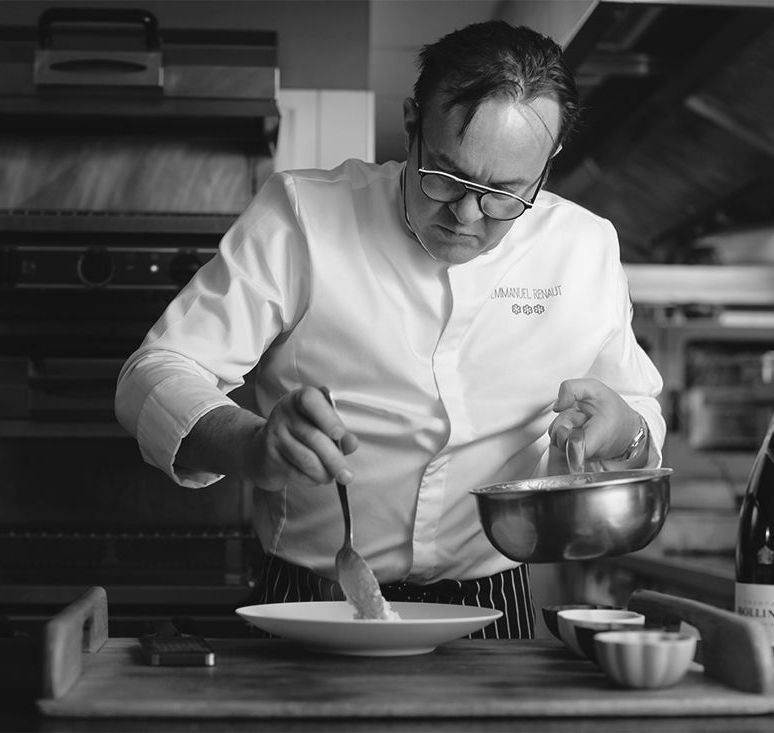 Ingredients
1 cardoon
200 g double cream
100 g Beaufort cheese
4 eggs
10 g chopped truffle
2 onions
200 g puréed celery
150 ml vegetable stock (2 carrots, parsley stalks and water)
Preparing the recipe
Take a few stalks of a cardoon and peel them as you would celery (take care, the spines are very sharp).
Braise the cardoon, taking it off the heat when three-quarters cooked, and cool.
Mix the puréed celery with salt and let down with water to obtain a slightly runny and very salty purée.
Place the mix in a dish.
Separate the eggs, then place the yolks on top of the purée.
Leave to refrigerate for 24 hours. After 12 hours, turn the yolks over.
The following day, rinse the yolks, then place them in the oven to dry on a cloth at 50° for one day.
Finely dice the onions, then sweat in butter until fully melted.
Once cooked, spread the onions very thinly between two sheets of non-stick parchment.
Dry in the oven (50°) for 1 day.
Heat the cream, vegetable stock and grated Beaufort.
Cut the cardoon into small dice and finish cooking it in this creamy mixture, adding a little Beaufort if necessary. Season with pepper and nutmeg.
Place a large spoonful of cardoon risotto onto the plate and add the chopped truffles, grate over the dried yolks, then add the dried onions.