Vieilles Vignes Françaises 2013
The eternal taste and soul of Champagne
This Pinot Noir originates from two unique Grand Cru parcels
of land in the grounds of the Maison Bollinger in Aÿ
The embodiment of two plots that miraculously survived phylloxera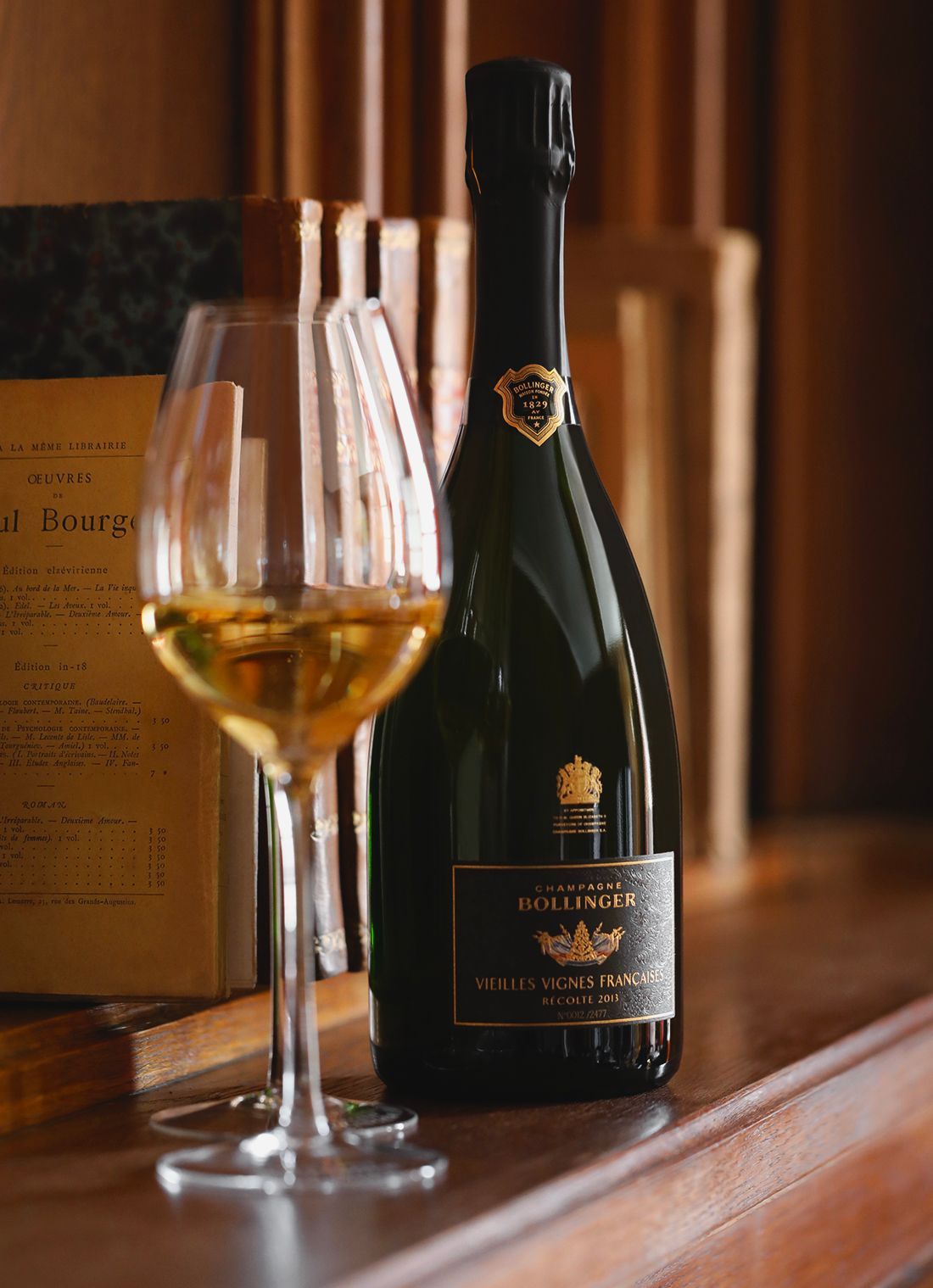 Champagne Bollinger's history. In the ungrafted vines, there is a memory that was almost lost: an extraordinary, moving reminder of our cultural heritage, of the Champagne region before phylloxera. Miraculously, two plots survived this outbreak, Chaudes Terres and Clos Saint-Jacques in Aÿ. Maison Bollinger's Vieilles Vignes Françaises are made exclusively from these legendary parcels. Both are classified as Grand Cru and are still grown in the old en foule way, using a traditional layering method known as provignage.
When designing the identity for this new Vieilles Vignes Françaises vintage, Champagne Bollinger focused on the authenticity of the two surviving plots. The design of the 2013 vintage is based on the traditional aspects of the cuvée and portrays the Maison's exceptional historical heritage.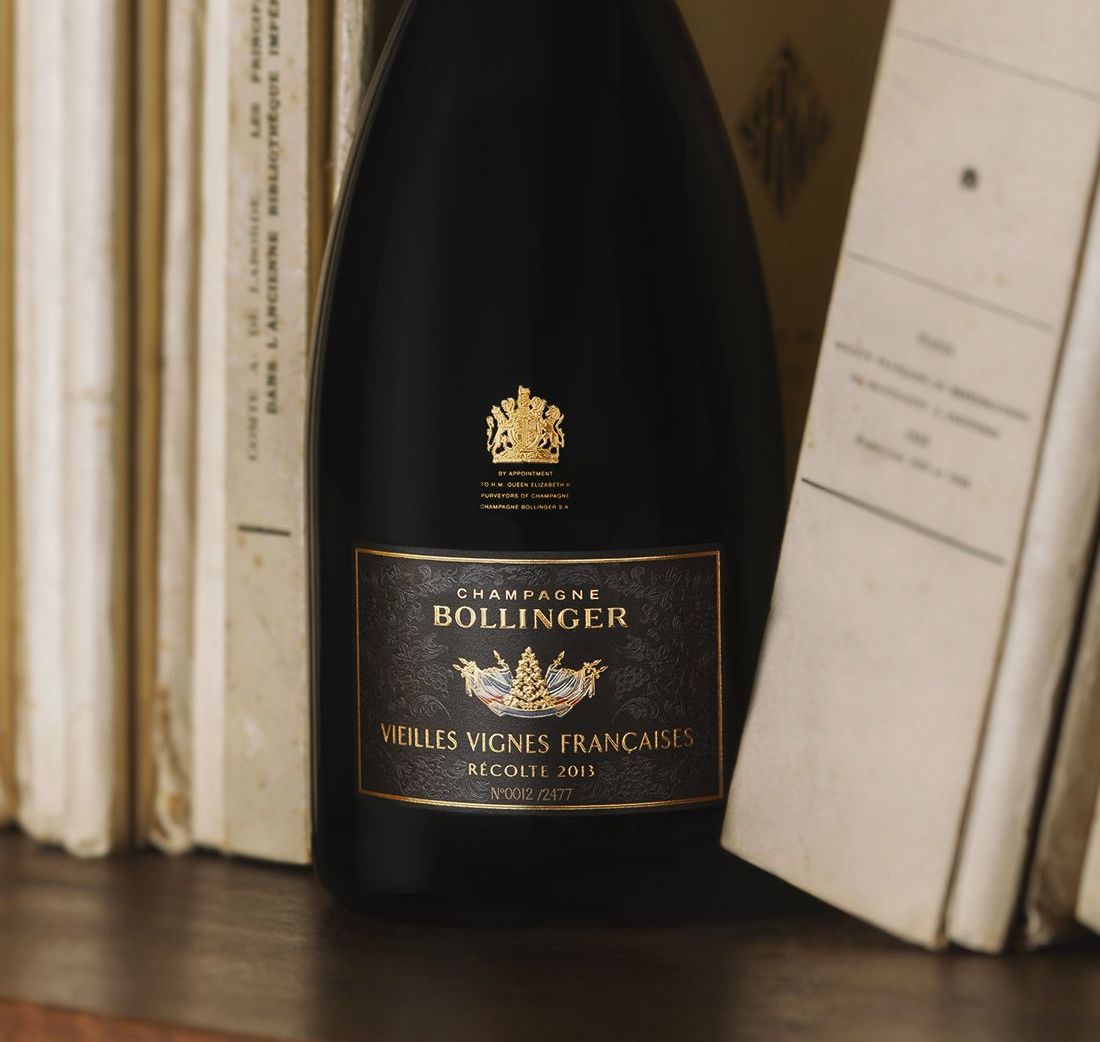 Assembly
The eternal taste and soul of Champagne
Vieille Vignes Françaises 2013 is an assembly of 100% Grand Cru Pinot Noir, fermented entirely in aged oak barrels. It is composed solely of harvests from the two legendary clos located near to Maison Bollinger in Aÿ, Les Chaudes Terres and Le Clos St Jacques.
Dosage is moderate, 6 grams per litre. 2,477 numbered bottles of Vieilles Vignes Françaises 2013 were produced.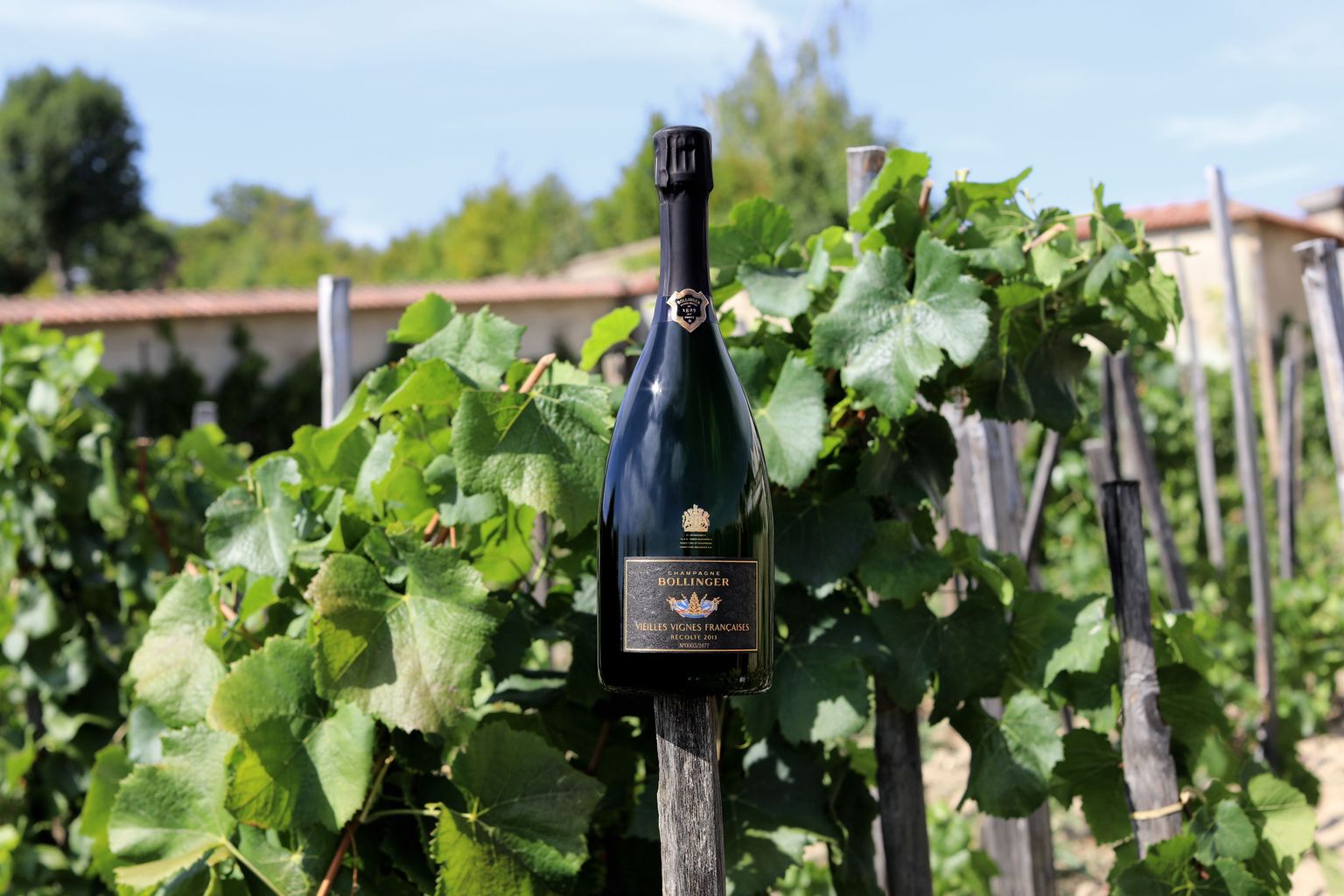 Sensations
The secret outcome from a year of contrasts
The 2013 viticultural year saw a succession of unusual climate conditions: a rainy spring combined with a hot summer with the strongest sunshine ever recorded in Champagne. Despite these significant constraints, Les Chaudes Terres and Le Clos St Jacques were harvested on 27 September 2013 and offered grapes of a peerless quality, giving rise to an intense and fresh Vieilles Vignes Françaises vintage. En dépit de ces fortes contraintes, Les Chaudes Terres et le Clos St Jacques sont vendangés le 27 septembre 2013 et offrent une qualité de raisins irréprochable, donnant naissance à un millésime des Vieilles Vignes Françaises intense et frais.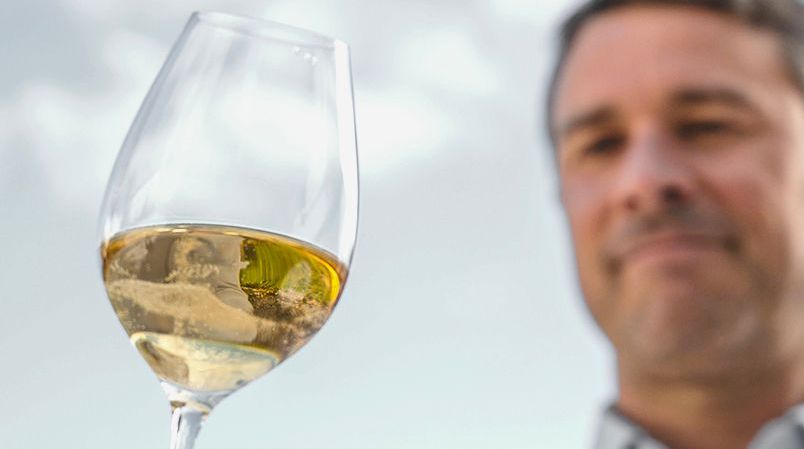 To the eye
The wine has a deep golden colour.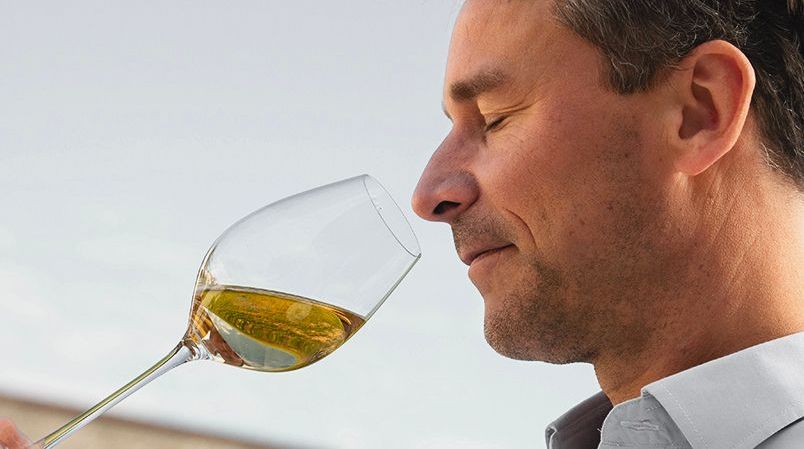 To the nose
Aromas of quince jam, mirabelle plum and fresh hazelnut are layered with candied lemon peel and sweet spices. A succession of notes follow, from stone fruits to nuts, such as almonds, and finish on aromas of tonka bean.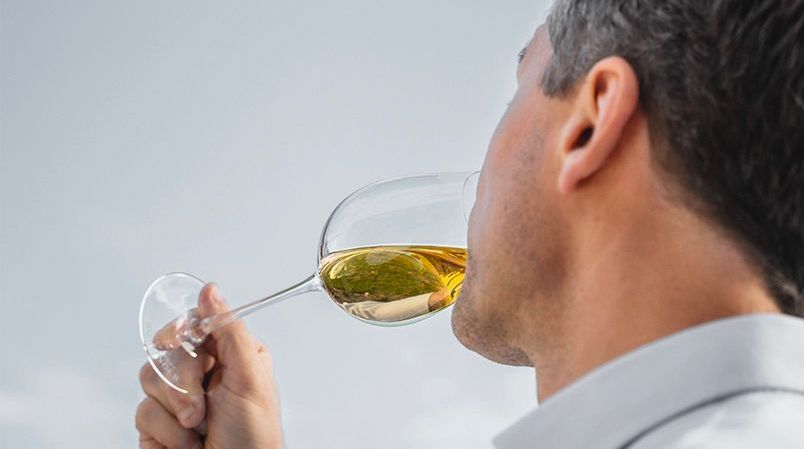 On the palate
An ample, powerful and lively taste. A hint of sea-air rounds off this generous and intense wine.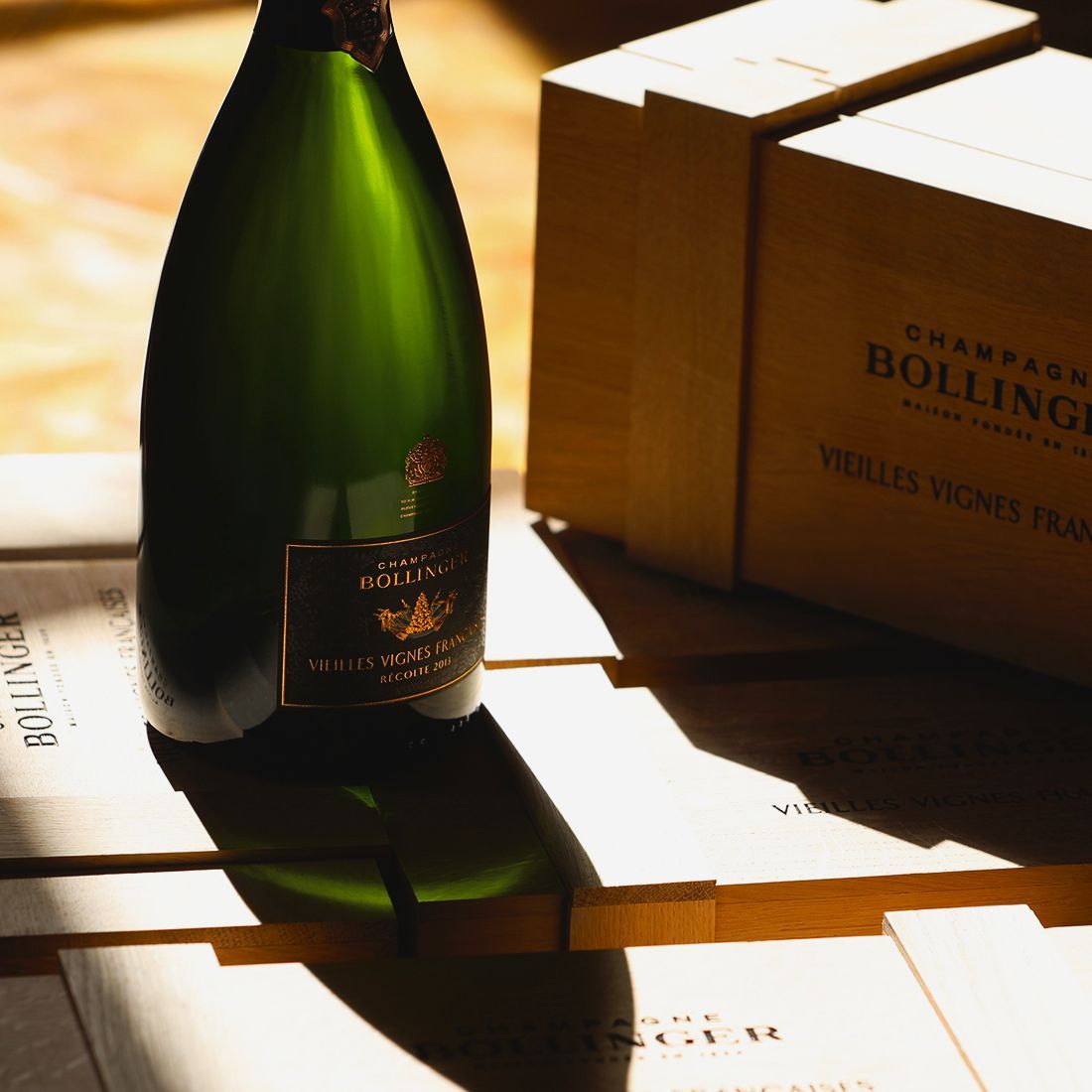 Conseils de dégustation
Vieilles Vignes Françaises 2013 can be paired with the finest dishes, but also offers an exceptional tasting experience by itself. Connoisseurs recognise that tasting this wine is a rare and sought-after affair. To fully appreciate its unique style, bouquet and aromas, this wine is best served between 10 and 12°C. You can enjoy Vieilles Vignes Françaises 2013 now, or choose to age it in your cellar.
A responsibility anchored in time and a commitment to People, the Earth and our Roots.
See our other suggestions